Founder's Bio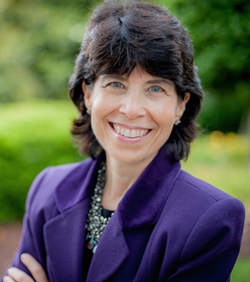 "Find your passion, know your values, pray for guidance, live your dream"
"Walking beside others is one of the greatest privileges people can give you, as you receive their invitation to accompany them on their journey, and their trust that you will have their best interests at heart. To each person, company, and organization that has extended that privilege to The Leaders' Haven™, please receive our sincere thanks. To those who issue an invitation in the future, we look forward to partnering with you."
Cynthia Mills is the President & CEO of The Leaders' Haven™, a consultancy serving clients as business strategist, board consultant, business and executive coach, succession planning and change management guide, leadership development catalyst, speaker, and facilitator for small privately held and family-owned businesses, corporations, associations, not-for-profits, NGOs, and faith-based communities.
Cynthia founded The Leaders' Haven to help leaders & teams go beyond business as usual & continuously transform, so they can fulfill their true calling & exceed the expectations of the people they serve. Nicknamed "The Board Whisperer™" and "The Chief Experience Weaver™" by clients, Cynthia relishes transformational journeys and that moment when everyone sees potential and commits to going after it!
The Leaders' Haven's™ clients are leaders in the business, industry, finance, service, co-op, education, certification, philanthropy, energy, marketing, healthcare, pharmaceutical, legal, marketing, environmental, real estate, facility management, retail, agriculture, veterinary, senior living, publishing, media, engineering, transportation, construction, safety, club manager, entertainment, hospitality, restaurant, philanthropy, fraternity, and faith sectors. An award-winning national and international CEO, Cynthia partners with future seekers, change masters, high performers, corporate culture architects, committed & developing leaders, best practice designers, and believers in succession planning to align for impact and exceed expectations.
Eternal Student:
As a Rotary Ambassador Scholar, Cynthia received her MA from the University of York, England and a dual BA from Queens College as a Presidential Scholar, where the motto is "not to be served but to serve." She is a member of the Association of Charlotte Area Consultants (ACAC), International Coach Federation (ICF), International Coaching Council, American Society of Association Executives, (ASAE), Association Executives of North Carolina (AENC), an Honorary Lifetime Member of the Georgia Society of Association Executives (GSAE), a Lifetime Member of Strathmore Who's Who Worldwide, National Academy of Bestselling Authors, and the National Association of Experts, Writers & Speakers. Cynthia is Certified as a Master Coach, Professional Coach, Christian Coach, and Association Executive and is a Fellow of the association profession.
Citizen of the World:
Cynthia has represented organizations in Asia, Europe, Scandinavia, the UK, Mexico, Canada, Bermuda, the Caribbean, and the U.S. Cynthia has led diverse teams working and engaging with the Danish, Tongan, Russian, Chinese, Japanese, British, Swedish, Italian, Norwegian, German, Austrian, American, Canadian, Hispanic, Belgian, Dutch, Australian, Nepalese, Indian, and Native American peoples.
Transformation Architect:
Cynthia designs transformational work in complex international, national, and regional companies and organizations. She led multi-corporate subsidiary operations; an international organization with 25,000 members and 800 chapters around the world; and industry trade associations serving over 300,000 people. Cynthia also played key leadership roles in merger conversations with national and international organizations and the CEO/executive search process. She was awarded the Chair of the Board's Award twice for her work to transform an industry.
Leader Cultivator:
Cynthia invested in leader creation as adjunct faculty at New England College, developing curricula and teaching strategic planning and policy, the dynamics of governance, and thesis preparation for the MS in Management for Nonprofit Leadership. She was also a member of the Curriculum Review Team for two MS degrees and on the Exploratory Committee to establish a Ph.D. in Management.
Cynthia is the designer of the Building Owners & Managers Association of Georgia's CRE Leadership Masters Program, helped to redesign the Leadership Academy curricula for the Georgia Society of Association Executives and is the exclusive executive coach for the American Traffic Safety Services Association's Leadership Program serving corporations nationwide. Cynthia is also an official CEO, executive and career coach for the American Society of Association Executives.
Community Investor:
Cynthia chaired the bird-dogging campaign of the NH Primary Project for the New Hampshire Center for Non-profits to bring not-for-profit issues before the U.S. Presidential candidates. Watch: Non-profit Primary Campaign
She served on the Board of Visitors of Queens University of Charlotte, the Royal Crest Board of Directors and attends Christ Lutheran Church.
Cynthia has formerly served on the National Alzheimer's Association's Ronald & Nancy Reagan Research Institute Committee, Public Policy Committee, & Program Committee; C12, Rotary International, United Way, Georgia State University Nonprofit Advisory Committee, and the Staunton/Augusta County Commonwealth Community Alliance for Drug Rehab & Education. Cynthia also served the Georgia Society of Association Executives (GSAE) as President, and as a Director on the Board and Executive Committee of ASAE and ASAE's for-profit subsidiary, ASBI.
Peer Recognized:
Business Leader Media named Cynthia as a Business Leader Woman
Extraordinaire, and Strathmore Who's Who Worldwide chose her as Professional of the Year in Consulting, Coaching and Professional Development. TCIA bestowed the Chair's award twice under her leadership. Queens College identified her as one of Ten Who Make a Difference and bestowed the Algernon Sydney Sullivan Award.
In 2018, Cynthia was inducted into the Academy of Leaders, a highest individual honor from ASAE, for exceptional leadership and outstanding contributions to the advancement of the profession. Cynthia is also an ASAE Fellow, which is bestowed on less than 1% of the profession. She was subsequently elected Fellows Chair. GSAE honored her with the Clifford Clarke Award as Outstanding Association Executive, the President's Award, one of 90 Movers & Shakers, and awarded her Lifetime Honorary Membership. Cynthia was also selected as the inaugural Southeastern Association Executive of the Year by Southeastern Association Executive Magazine.
Author:
Cynthia is the author of multiple books. "The Empty Front Porch: Soul Sittin' to Design Your porch to Porch Plan" was published August, 2015. Cynthia is a co-author with Jack Canfield of the best-seller, "The Big Secret." Her chapter, "Align for Impact," received an Editor's Choice Award. "CEOs First 90 Days: Breathing Tips for the Other End of the Fire Hose" is available through this web portal of resources.   The Leaders View: Strategy & Leadership Lessons Riding the Blue Ridge Parkway is her latest contribution.
Other releases include chapter contributions to "Breaking the Concrete Ceiling: Empowerment Tools for Women, "  "Leading from the Heart," "The Female Factor: A Confidence Guide for Women," entrepreneurism in "The Total Woman." Cynthia is under contract for 7 more books, including a 5-part series, and is currently authoring "The 4 'S' Words: Leadership Revelations to Transform Your Life, Your Business, & Our World.™"
"I'll go where You want and do what You want, even if it's not somewhere I think I want to go, if You'll take my life and make something of it."
Professional Memberships



 Certifications






ASAE Approved Coach